I wrote a post a few days ago about Mary saying "Yes" to God and the blessings we all receive because of her steadfast faith. In contrast to that post, I want to address those of us who unfortunately said "No" when we found ourselves with an unexpected pregnancy and chose abortion.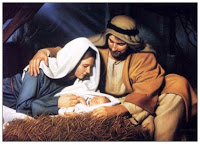 Many women who have had an abortion experience difficulties around the anniversaries of their abortions and/or when their babies were due.  I used to experience depression during those anniversaries but also around Christmastime because it was the biggest reminder of how I failed God, my children as well as myself.  I thought of my babies every time I saw baby Jesus in the manger or in the arms of the Blessed Mother and the regret was paralyzing.
If it hadn't been for an after abortion healing program, I would still not only find myself saddened when viewing a nativity scene or images of the Blessed Mother with Baby Jesus but still consider myself a failure in God's eyes.  I now fully embrace Christmastime, in fact, I have a collection of nativity scenes and have a statue of the Blessed Mother with Baby Jesus on my fireplace.
Through healing, I came to understand that because of Mary's "Yes", redemption for what I considered an unforgiveable act, was there for the asking.  And because of His loving mercy, and Mary's inspiration of faith and courage, I am able to speak out in an attempt to prevent others from saying, "No".
"…for all have sinned and fall short of the glory of God, being justified as a gift by His grace through the redemption which is in Christ Jesus" …
Romans 3:23-24
If you are struggling with your decision to abort, please visit the Silent No More Awareness Campaign website for healing resources.  You are not alone.
by Patti Smith – Regional Coordinator for San Diego, CA
For more of Patti's writings, visit her blog.