by Nancy Belzile, Regional Coordinator for Northern New York
It was over 30 years before I was able to acknowledge and provide a visible memorial for my children lost from abortion. During my weekend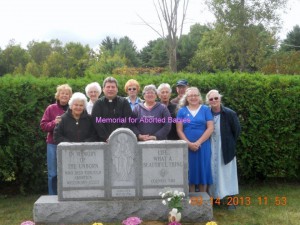 retreat with Rachel's Vineyard in Fall 2007, my children were named Matthew & Elizabeth. An important step in the process of healing is bringing humanity to the child and naming them.  It is always a challenge when people ask me, "How many children do you have?" I often respond, 3, but I really mean 5. Yes, Amen, I have 5 beautiful God-given children.
In 2013, Pro-life Action League along with Priests for Life co-sponsored the first annual National Day of Remembrance for Aborted Children. And, with that, God took me on a new journey to visually memorialize my children.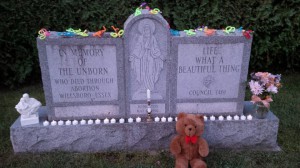 When Fall 2014 came, God placed it on my heart to have a sunrise service. Not many people came, and we didn't have a priest to lead, but we did it anyway. The little tea lights glittered in the darkness as the sunrise peeked through the trees.
In 2015, my children were given their middle names: Matthew Carmel and Elizabeth Rose.  That September was extremely painful and difficult, emotionally and spiritually. I was ready to cancel the National Day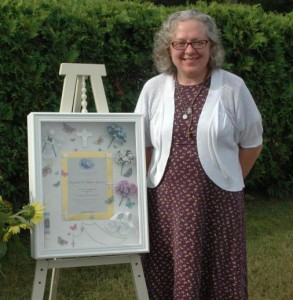 of Prayerful Remembrance.  I reached out to many for prayer and support.
After receiving an outpouring of love it was placed on my heart that the only way I could make it to this day was to make a memorial for Matthew Carmel and Elizabeth Rose. And so I gathered some of the items collected from the past: the certificate of life provided from the Shrine of the Holy Innocents in Manhattan, where their names are written in the Book of Life, a pink and blue Rosary from the Divine Mercy Shrine given to me from my friend Margaret, the Baptism Candle and Lace Angel from the RV Retreat.  I added the butterflies, crosses, bouquets of flowers, and baby booties for a better symbolic treasure of the love I desire to express for them.