Georgette Forney
President, Anglicans for Life
Co-Founder, Silent No More Awareness Campaign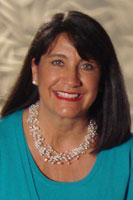 Georgette has been married to Jim Forney for 24 years and they have a sixteen-year-old daughter named Rebekah. Georgette is a member of St. Stephen's Episcopal Church in Sewickley, Pennsylvania where she and her husband are home group leaders. She is the President of Anglicans for Life and the co-founder of the National Silent No More Awareness Campaign. Georgette serves on the National Episcopal Church Standing Committee for National Concerns and the National Pro-Life Religious Council's Board of Directors.
Georgette had an abortion at age sixteen and nineteen years later experienced healing, forgiveness and reconciliation after going through the Forgiven and Set Free healing program. Through her healing and restoration experience, she developed a greater understanding of the negative impact abortion has on women and on society. Her passion for helping women find peace after abortion is matched by her desire to see young people make positive life choices.
In September 2005, Georgette's speaking went internationally when she presented at the Society for the Protection of Unborn Children's Annual Conference in England, in April 2005, she spoke at Princeton University's Organization of Women Leaders Conference and in May she was invited by the White House to attend a meeting with 19 religious leaders and President Bush. In the spring of 2004, Georgette addressed the Senate Commerce sub-committee on Science, Technology and Space, chaired by Senator Brownback (KS-R) regarding the impact of abortion on women's health. She has addressed numerous State Right to Life conventions and rallies, College and University Students for Life organizations and conferences including, the 21st Century Renewal Conference. She hosted the television infomercial "Tilly." In addition, she regularly speaks at Episcopal and Anglican Churches nationwide and in June 2003, she addressed the Pro-Life Caucus of the U.S. House of Representatives concerning the impact of abortion on women. She has spoken at the National Right to Life Convention for the last eight years as well as at the National Memorial for the Unborn Service in Washington, D.C.
Anglicans for Life is a life-affirming ministry in the worldwide Anglican Communion that advocates the sanctity of life from conception to natural death in the Church and society. Their vision is to stand for the value of every human life as reveled in Scripture and equip people to develop a biblical response to issues that threaten human life.
The National Silent No More Awareness Campaign is a national effort to raise awareness about the physical, spiritual and emotional harm abortion does to women. The Campaign also wants to let those who are hurting from abortion know help is available.

To invite Georgette to speak in your area, contact Anglicans for Life at Tel: (800)-707-6635 or info@AnglicansForLife.org.

Anglicans for Life
405 Frederick Ave
Sewickley, PA 15143
412-749-0455 or 1-800-707-6635
Georgette@SilentNoMoreAwareness.org
Click here for a shorter version of Georgette's Bio
Click here to listen to Georgette's Testimony (Real Audio)